BOOK Details

Gro Folkan
Paintings
authentic Signed & Numbered Bibliophile
limited edition and ebook edition
Publisher: Masters of Today (MOT )
Author, Editor, publisher: MOT
Museum quality offset art print
Hardcover 112 pages
size: 8.5X8.5 IN /22x22 cm
Language: English
ISBN-13: 9789189685383
ISBN-10: 9189685385

BACK TO THE BOOK GALLERY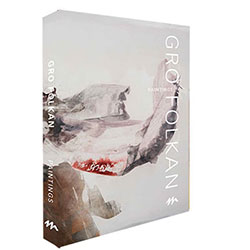 Gro Folkan was born 1949 in Oslo, Norway, and lives between Oslo and Tromsoe. She studied art at National Art Akademy in Oslo. She has had 25 solo exhibitions in leading galleries in Norway and abroad. Folkan's works have been purchased by the Norwegian National Gallery, the Museum of Contemporary Art in Oslo, National Bank of Norway, national universities, institutions and offices. Working now towards two solo exhibitions in Norway 2017, one invited solo exhibition i New York, Manhattan, Gallery Artifact, 2019.